T
he National Institute for Occupational Health (NIOH), a division of the National Health Laboratory Service (NHLS), held a workshop on occupational health and decent work for the construction industry on 23 March 2017 in Johannesburg. Delegates at the workshop included NIOH staff, construction industry tripartite plus stakeholders (government, trade unions, employer organisations, and civil society), the International Labour Organization (ILO), academics, and occupational and environmental health and safety (OEHS) professionals.
There are over 100 million documented construction workers globally,1 and at least 1.5 million construction workers in South Africa. The construction industry contributed about 4% of the gross domestic product (GDP) in 2016.2,3 The industry is one of the three industries with the highest work-related injury risk.4 Construction work is associated with traumatic injury, poor ergonomics, and chemical, physical, biological, and psychosocial hazards. These hazards can cause occupational and work-related diseases.5
The construction industry provides a traditional point of entry into the labour market for rural-urban workers, and is often the only significant alternative for the poorly educated person, with no skills, and for landless, migrant and vulnerable workers.2 In most countries, construction jobs are undertaken almost exclusively by men, with women performing unskilled tasks for very low pay. This leads to inherent gender bias due to male dominance attributed to the nature of the work and unfavourable working conditions.6
The Occupational Health and Safety Act (OHS Act) no. 85 of 1993, and its Construction Regulations 2014, place obligations on employers to ensure the health and safety of construction workers.7 To this end, NIOH hosted a national workshop intended to be a platform for knowledge sharing and discussions that would pave a way for the protection, promotion, maintenance and improvement of construction workers' occupational and environmental health safety (OEHS).
The objectives of the workshop were:
• To outline the relevant OEHS legal and legislative
framework for the prevention of occupational diseases
• To highlight the burden of occupational diseases
• To discuss the provision of preventive OEHS services, including occupational risk assessment and medical surveillance, while emphasising a gender-inclusive and ethical approach
• To discuss challenges and opportunities to nurture prevention strategies in OEHS for occupational diseases
The NIOH Executive Director, Dr Sophia Kisting, opened the workshop and introduced its purpose. She acknowledged the burden of safety and occupational injuries but highlighted occupational health and occupational diseases as the focus of the workshop. She spoke about the role of OEHS in the protection of human rights at work; OEHS as an integral part of public health; social determinants of health and OEHS and the importance of OEHS as a key social determinant of health; the need to nurture a culture of sustainable prevention while embracing the Sustainable Development Goals; and the importance of risk and exposure assessment and risk management in OEHS.
Mr Phumudzo Maphaha from the Department of Labour (DoL) provided an outline of relevant policies and legislation, and highlighted the dire shortage of qualified health and safety professionals, particularly inspectors, which hampers enforcement. He further elaborated on the OHS Act and the Construction Regulations 2014, and related enforcement matters; provided valuable information on the availability of OEHS data and its utilisation; emphasised the importance of proper qualifications for health and safety officers, and of factoring in OEHS at the design phase of the construction project with a dedicated budget; and concluded by saying that "The dangerous conditions of work currently prevailing in the construction industry are tantamount to modern day slavery".
Mr Frank Muchiri (ILO) spoke on the application of ILO standards. He emphasised the need for development of a preventive occupational health and safety (OHS) culture and the application of a systems approach to managing OHS at the national level. He noted that this was achievable through three foundational concepts: the national OHS policy, a national OHS system, and a national OHS programme.
Professor David Rees (NIOH) presented a paper on the burden of work-related disease in construction. He outlined exposures and associated diseases in the construction industry, and reported on availability of data and data sources globally while acknowledging the paucity of data in South Africa. He emphasised, though, that 'if you seek you shall find' data!
Mr Ashraf Ryklief of the Industrial Health Research Group facilitated a tripartite panel discussion with representatives from DoL (Mr Maphaha), Master Builders South Africa/Business Unity South Africa (Ms Leshoedi), Black Business Council (Mr Moagi), and COSATU/NUM (Mr Nhlapo). The discussions focused on the different OEHS roles of the tripartite stakeholders and how each stakeholder contributed to the OEHS of construction workers.
Finally, group discussions were held with delegates divided into three groups, focusing on: 1) leadership, governance and service delivery; 2) health information and research; and 3) human resources, financing and technology. Overall, the discussions noted the importance of increased enforcement capacity; empowering workers; tracking workers to capture the extent of occupational disease and injuries; conducting collective research; analysing OEHS training; and developing a central database for surveillance data.
In closing, Dr Kisting committed NIOH to act as a catalyst moving forward, while Dr Muzimkhulu Zungu (NIOH) stated that the workshop brought stakeholders together and opened social dialogue on OEHS for the construction industry which has identified opportunities and threats, thus marking the beginning of engagements towards strengthening OEHS in the construction industry.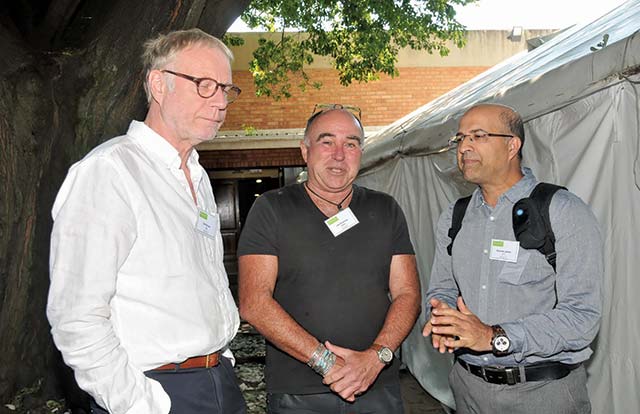 Participants networking, from L to R: Derk Bouwer (Wits), John Smallwood (NMMU) and Mohamed Jeebhay (UCT)

NIOH Executive Director, Sophia Kisting (right), networking with Claire Deacon (OEHS expert)



Tripartite panel discussion, from L to R: Ashraf Ryklief, Phumudzo Maphaha, Itumeleng Leshoedi, Tumi Moagi and Mziwakhe Nhlapo
REFERENCES
1. International Labour Organization. Tripartite Meeting on the Construction Industry in the Twenty-first Century: Its Image, Employment Prospects and Skill Requirements. Geneva: WHO; 2001.
2. Statistics South Africa. Quarterly Labour Force Survey: Quarter 1 2017. Pretoria: Government Printer; 2017.
3. Statistics South Africa. P0277: Quarterly Employment Statistics June 2015. Pretoria; Government Printer; 2017.
4. ILO Encyclopaedia of Occupational Health and Safety, Chapter 93. Construction. 4th Ed. Geneva: ILO; 1998. Available from: http://www.ilocis.org/documents/chpt93e.htm (accessed 10 Jul 2017).
5. Finnish Institute of Occupational Health. Occupational diseases in Finland in 2012: new cases of recognised and suspected occupational diseases. FIOH: Helsinki; 2014.
6. International Labour Organization. Baseline study to assess gender disparities in construction sector jobs. ILO: Geneva; 2011.
7. Republic of South Africa. Government Gazette No.37305. February 2014:584.
Report by:
Muzimkhulu Zungu
NIOH: Head of HIV and TB in the workplace
Coordinator – OEHS in the construction industry
e-mail: muzimkhulu.zungu@nioh.nhls.ac.za
Nosimilo Mlangeni
NIOH: Public Health Practitioner HIV and TB in the workplace
e-mail: Nosimilo.Mlangeni@nhls.ac.za
Download this Article